Morris is the best known style of ceremonial dance in England and the earliest references to it date from the 15th century. Distinctive styles of dance were recorded in the 19th and 20th centuries: Cotswold originated in the South Midlands, North West in the mills of Lancashire and Cheshire, Border along the Welsh border and Molly in East Anglia.
North West dances are often processional in nature. A side consists of a dance leader and, usually, eight dancers. The leader calls the figures which are geometric patterns. A dance consists of a repeated chorus ('step-up') separated by five or six figures and a dance-off to end. Steps are march, polka (rant) or single step.
Barley Brigg dances in the North West style in elaborate and colourful costumes with the stepping accentuated by the use of clogs.
Originally based in Laxfield, Barley Brigg takes its name from Barley Bridge, to be found at Barley Green on the road to Stradbroke, which led to the Hoxne Union Workhouse. The 'residents' of the institution, which closed in 1871, would apparently hide their possessions near the bridge going in, and retrieve them later when they left.
In addition to our Summer evening pub dances, Barley Brigg appear at a number of events in East Anglia and further afield. In 2012 we visited the Netherlands and danced at the famous Cheese Market in Edam. In July 2008 we performed at the Rättviksdansen folklore festival in Sweden. We have danced on the West Coast of Ireland, the Isle of Wight, and Brittany and Bouchain in Northern France. We have performed at festivals such as Folk East, the Wimbourne Folk Festival, Rochester Sweeps, Potty Festival in Sheringham and many others.
The costumes worn by Barley Brigg consist of red socks, blue breeches, white shirts, blue and red sashes, red and white neckerchiefs and top hats decorated liberally with flowers for the men; red tights or stockings, blue and white striped skirts, white blouses and black straw hats decorated with flowers for the women.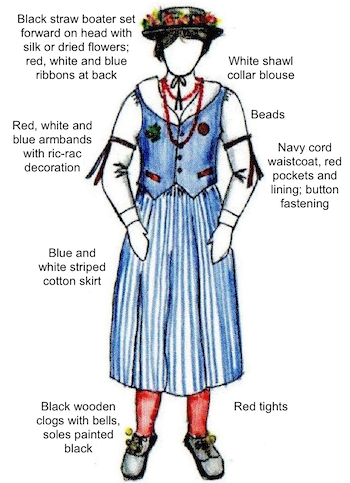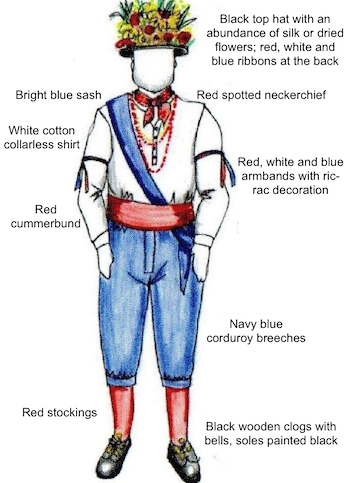 We wear traditional wooden-soled, iron-shod clogs on hard surfaces to really enhance the stepping.
We dance with a variety of hand-held implements which include cotton rope slings, decorated sticks, wavers, and vintage wooden bobbins from the woollen mills of Lancashire.
Music is an integral part of morris dancing and we have a fantastic band of musicians led by Ade on the melodeon.
The musical line-up is constantly changing but generally includes D/G melodeons, guitar, mandolin, bass drum and other percussion. Sometimes a fiddle, recorder, or brass instrument accompany the dances with traditional tunes such as Rattling Bog, Tralee Gaol, Salmon Tails and the Floral Dance.